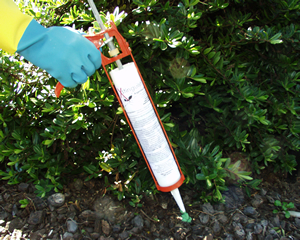 Laying ant bait. Image – Kerry Barton
Known Past Operations
If anyone has information on past operations and is willing to share the results (including data, images, etc.), then contact us and we can make these available on this site.
Information of ongoing, successful or failed operations is all useful to help inform others.
Past operations
| | |
| --- | --- |
| Organisation: | Landcare Research 2002 |
| Control Method: | Xstinguish™ |
| Monitoring Method: | Baited vials |
| Aim: | Initial experiments trialling Xstinguish™ |
| Results: | Table 1 |
Table 1
| | | |
| --- | --- | --- |
| Location | Size of infestation | Reduction in ant numbers |
| Tiritiri Matangi Island | 13 ha | 99.98% |
| Mount Maunganui | 60 ha in total | Notable reductions and two small-scale eradications |
| Nelson | Over 150 properties | c. 90% |
| Christchurch – Sockburn | 28 ha | Good results |
| Christchurch – Riccarton | 4.8 ha | Good results |
| Christchurch – Hornby | 17.4 ha | Good results |
Experience with volunteers
Experience with volunteers is reported below in the hope that the problems encountered can be avoided in other campaigns. At this site, Argentine ants were recorded throughout an extensive area of steep hillside with large well-established sections and extensive reserves of scrubland and forest, bordered by new subdivisions in grassland. A decision was taken to adopt an approach that involved surveying, providing information to landowners and securing access to bait with landowners paying for the bait. To coordinate treatment, bait-laying was conducted by volunteers organised into teams, provided with on-site logistical support.
The challenges included:
Limited technical information
Having to postpone the first day of treatment, due to bad weather
Limited numbers of volunteers on subsequent weekends
Overuse of bait by volunteers
Insufficient logistical support
Organisation and management of volunteers
The amount of work involved in dealing with landowners
The amount of work involved in collecting funds for baiting from landowners, with some refusing to pay for bait or allow treatment
Determining responsibility for payment on rental properties or those held under various legal tenures.
There are many lessons that can be taken from this experience:
The lack of statutory authority for the council to require baiting on all properties, as Argentine ant was not defined as an 'unwanted organism', nor was it included in the Regional Pest Management Strategy.
The decision to require landowners to buy their own bait was very costly for Council staff in terms of staff follow-up time.
High levels of technical, management, communication and information management skills are required.
Recruiting, training and managing a volunteer workforce is very costly.
A programme using volunteers is less effective than one employing experienced contractors, especially on steep vegetated hillsides.
Information needs to be presented clearly and made available well in advance of the operation itself.
Dividing the area into 'bite sized chunks' with well-defined physical boundaries that can be treated within a single day was important.
Managing the media is an important part.