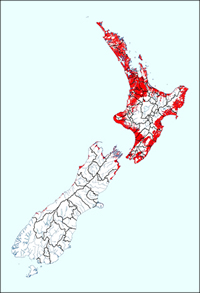 Argentine Ants in New Zealand
The World Conservation Union lists the Argentine ant as one of the world´s worst invasive species. The Argentine ant originally established in Auckland in 1990, and is now a problem in an increasing number of towns and cities throughout New Zealand. From one urban area to another, Argentine ants hitch rides in freight, potted plants, rubbish, vehicles and other such goods.
However, many natural areas are also at risk, and an infestation has been found on Tiritiri Matangi Island in the Hauraki Gulf, a highly valued open sanctuary and scientific reserve.
Our aims
The aims of this website are to:
Provide authoritative information on Argentine ants in New Zealand
Enhance communication between regional and national biosecurity authorities, scientists, and the public.
If you are interested in receiving updates to this website via an email list, please
contact us
.
Funding
Funding for this project was primarily provided by Envirolink grant # TSDC73, and by grants from the Foundation for Research, Science and Technology (C09X011, C09X0507).
Citation
This website may be cited as:
Ward DF, Toft R 2011. Argentine ants in New Zealand. http://argentineants.landcareresearch.co.nz/ (accessed dd/mm/yyyy).