Image – Richard Toft ©Entecol
Current and Potential Distribution in New Zealand
Current New Zealand distribution
Argentine ants were first recorded in Auckland in 1990, and at the time there was no attempt to eradicate them because the population was already established across several hectares (Green 1990).
Over the following few years there were few Argentine ants collected and no formal reports of its spread. In summer 1997/98, two discrete populations of Argentine ants in Mt Maunganui were surveyed (Osborne 1998). Subsequent publicity, and increased searching for the species, has produced many more records.
Currently, Argentine ants are known from numerous locations in the northern North Island and several in the South Island.
Distribution of Argentine ants in New Zealand with dates populations confirmed
(click to enlarge)
Ant distribution data
Further distribution records for Argentine ants in New Zealand are available from the
Ant Distribution Database.
The database contains distribution records of all ant species in New Zealand, endemic and introduced (of confirmed establishment) including Argentine ants, based primarily on records from insect collections around New Zealand, but also including records from researchers, government agencies, private collectors, and student projects.
Information sheets and distribution maps are supplied for each species.
Predicted New Zealand distribution
Determining an accurate representation of the potential distribution of Argentine ants is important for effective management, including assessing the likely scale of the problem, and prioritising areas and resources for surveillance.
Although Argentine ants were first discovered in New Zealand in 1990, it was some years before the first maps of potential distribution were made (2002) and published (Charles et al. 2003). Subsequently, a number of other models have examined the potential distribution of Argentine ants in New Zealand (Harris 2002; Harris et al. 2002; Hartley & Lester 2003; Hartley et al. 2006; Harris & Barker 2007; Ward 2007, 2009; for further details see Ward et al. 2010).
Although a number of different modelling methods have been used, in general they are in concordance on a large scale.
(click to enlarge)
The potential distribution of Argentine ants in New Zealand appears to be across northern and coastal areas of the North Island (including offshore islands and geothermal areas). Most of the South Island and inland North Island are too cold, especially outside urban areas.
Based on the model from Ward (2009), the potential gross distribution of Argentine ants in New Zealand represents 20% of the country (5 513 500 ha).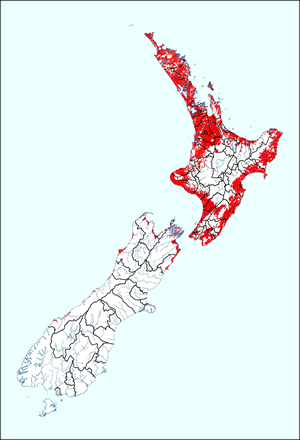 Potential gross distribution of Argentine ants in New Zealand (Ward 2009)
(click to enlarge)